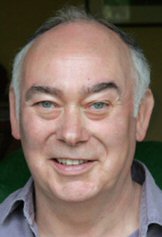 John Peacock
Scholar and Associate Director of The Oxford Mindfulness Centre John Peacock joins us to speak about secular views of early Buddhism.
It's strange, thinking from our current vantage point, that the religious edifice we call Buddhism might not have been intended by the Buddha to become such an edifice. But, unless we take a closer look, unless we allow ourselves to think outside what the traditions are telling us, we might miss that potential fact of this pragmatic and beneficial practice.
Today's episode is something of an experiment that went quite well, in that we took questions posted by you, our listeners, subscribers, and friends. We will likely be doing so again, and will let you know by posting on the FaceBook page for the podcast with a link to allow you to ask your questions ahead of time.
John Peacock has been both an academic scholar as well as a Buddhist practitioner/teacher for more than thirty years. Initially trained in the Tibetan Gelugpa tradition in monasteries in South India, he subsequently spent time in Sri Lanka studying Theravada and has taught at Peradiniya University on the outskirts of Kandy. He currently teaches Buddhist studies and Indian religions at the University of Bristol in the UK, is the Guiding Teacher of Sharpham Centre for Contemporary Buddhist Inquiry in England and is an Associate Director of The Oxford Mindfulness Centre, recognized by Oxford University.
So, sit back, relax, and have a nice Hibiscus tea.
Podcast: Download
Quotes
"Good jokes are generally not made by committees." — Richard Gombrich, conveyed by John Peacock
"Buddhism does not arise out of a vacuum." — John Peacock
Books
Web Links
Music for This Episode
Rodrigo Rodriguez
The music heard in the middle of the podcast is from Rodrigo Rodriguez. The tracks used in this episode are:
Category: The Secular Buddhist Podcast
Ted Meissner is the Executive Director of the Secular Buddhist Association, host of the SBA's official podcast The Secular Buddhist, and is on the Advisory Board for the Spiritual Naturalist Society. His background is in the Zen and Theravada traditions, he is a regular speaker on interfaith panel discussions, and is interested in examining the evolution of contemplative practice in contemporary culture.