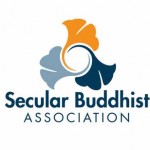 You may have noticed that we've recently updated the design to the Secular Buddhist Association's website, including a new logo. There are a number of reasons we've made this change, in keeping with our Mission to "Create and foster growth and continuity of an active and vibrant community for Secular Buddhism."
We're on a journey, and like all journeys has interesting twists and turns as we make progress. Originally this effort started as a podcast, and that website was designed merely to provide supporting information about each episode. As time went on, people were looking for more help with finding others, so we formed an initial group to brainstorm about ways we could provide resources and functionality to do that.
The Secular Buddhist Association site took over as the masthead for this work, and thanks to the talented efforts of our Technical Director, Dana Nourie, it included not only the ability to Comment on episode pages and articles, but a Discussion forum as a critical new feature for practitioners to have open conversations. This initial release was very much a home-grown work, and the main purpose of it was to serve the community's interest in new functionality.
Now we're taking the next step in our evolutionary journey, which is to more formally recognize the need for governance, participation, and rigor in our community building efforts. We've listened to feedback on the limitations of the original SBA look and feel, moving it from a less business-oriented design towards a more welcoming and open format, with key sections of our greatly increased content available right on the home page. We've adopted Community Standards and Participation Guidelines to encourage meaningful and positive dialogue, and have added new Authors to our blog to bring in fresh perspectives to various topics of interest.
Finally, the logo itself had to undergo a significant change to not only symbolize our practice, but support that welcoming and open tone for the site that would still be unique from everything else on the web. We decided that traditional images of the Buddha or lotus flowers wouldn't be quite right for us as that is not our cultural context, we wanted something that spoke to the idea that this is a practice in a new environment. We decided that the Ginkgo leaf would fit the bill, due to its history as an ancient tree surviving perhaps exclusively due to the efforts of Buddhist monastics, and is now thriving in new environments all over the world. It also had a very unique and appealing appearance!
Dana used the site Hatchwise to start a logo design contest. Graphic artists submitted eighty designs, and from them we selected the logo you now see. The colors were recommended by the artist, and we're using those three colors as the primaries in the overall new site design. The action of the three swirling ginkgo leaves represents the three main practices of wisdom, ethical behavior, and mental development in the Eightfold Path, and that we are constantly engaging in all three.
But we're not sitting back, there's still more to come. Mark Knickelbine's Practice Circle is about to begin, providing a means for people who may not otherwise have a local group to speak with the opportunity to sit and share with others. We continue to receive emails asking how people can donate to the SBA to help support the work and the offerings we're presenting, so we've registered the SBA name and the organization as a non-profit with the State of Minnesota, including the creation of Articles of Incorporation and By-Laws. Next will be the drafting of a business plan and formal submission for federal status as a 501(c)3 non-profit, so that we may then take donations and ensure those kind enough to share their generosity are able to receive some tax benefit. We would also then consider applying for grants for various purposes, including providing scholarships for conference registration and other activities. Throughout all of this, we want to ensure that there is appropriate transparency, governance, and checks in place to prevent issues around conflicts of interest.
Progress is, of course, incremental and constrained by our limited resources for this grass-roots effort on the part of only a handful of volunteers. We want to do it in a prudent fashion, doing our very best to lay a solid foundation for future growth from which we can all benefit in the sharing of secular practice. Thank you all for your interest, energy, and participation!
Category: Articles