Doug Smith
Doug is Study Director of the Secular Buddhist Association. He has a PhD in Philosophy, with a minor in Buddhist philosophy and Sanskrit. In 2013 he completed the year-long Integrated Study and Practice Program with the BCBS and NYIMC. A long time scientific skeptic, he pursues a naturalized approach to practice. He is also interested in scholarship about the Tipiṭaka, and the theoretical and historical origins of the dhamma. Some of his writing can be found at academia.edu.
Doug Smith's Latest Posts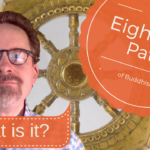 Many of us have heard of the Eightfold Path as perhaps the definitive description of Buddhist practice. What is it? Descriptions of the elements of the Eightfold Path can be found throughout the suttas, but a good quick rundown of the entire path can be found at Saṃyutta Nikāya 45.8.