Daniel
Daniel Scharpenburg is a writer and independent Dharma teacher.
He lives in Kansas City with two kids and two cats. He gives teachings online at The Open Heart Project. He also runs the Monday Night Zen Group at the Rime Buddhist Center.
Taking his inspiration mainly from Zen renegades and madmen like Ikkyu and Han Shan, Daniel has committed himself to a dedicated study of the Prajnaparamita teachings and the Way of the Bodhisattva.
Daniel was transmitted the Caodong Ch'an lineage of Master Xu Yun and given the dharma name Zhao Dao (shining path).
He has taken Bodhisattva Vows in both the Nagarjuna and Asanga lineages.
Daniel's Latest Posts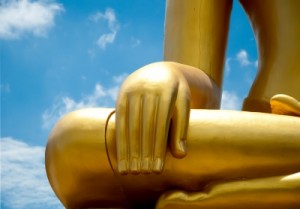 I sometimes think the deaths of my parents led me directly into Buddhism. When I was fourteen years old my dad was diagnosed with stomach cancer. He was in his early 50s. I remember when he told me. He had been having stomach problems for a while and he saw a doctor and they found […]