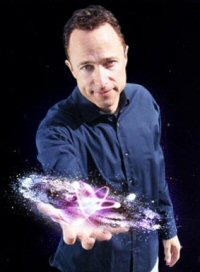 Roger Nygard
Film maker Roger Nygard speaks with us about his movie The Nature Of Existence.
"Get your head out of the clouds, Rebecca!" That's what I heard a father tell his little girl, who was lagging behind her parents and baby sister at the mall. My impulse was to tell her, "Don't listen to him, Rebecca. You keep your head in the clouds as long as you can." But I didn't. Because right after, the realization arose that this is not what I really believe. Yes, see things as wonderful, new, and fascinating as only a child can, but see those things as they really are.
So how do we do that? How do we inspire that sense of awe and magnificence with the incredible and totally natural present moment? As secular Buddhists, we tend to want to see things as they are without a religious framework. But that framework can be inspiring, and we're guilty of often only representing what is sometimes received as a cold and uninspired reality. That's our challenge. If we want to see secular practice of any kind grow and become a part of people's lives, we need to remove it from the mysterious trappings of faith, and show how truly awesome the natural present moment really is.
Today we speak with someone who wonders about existence, just like the rest of us, but unlike the rest of us went on a four year journey of discovering what people across the world believe. His movie is called The Nature of Existence.
Roger Nygard has directed, produced, written, and edited for film and television. Nygard's first feature was the comedy, HIGH STRUNG, starring and written by comedian Steve Oedekerk. His second feature was BACK TO BACK (a.k.a. AMERICAN YAKUZA 2), starring Michael Rooker. BACK TO BACK screened at film festivals in Dallas and Seattle before premiering as an HBO Original Motion Picture. But the film may be best known for having blown Bobcat Goldthwait to bits. Nygard next directed and edited TREKKIES, a documentary described as "affectionate, nonjudgmental" (Hollywood Reporter & Daily Variety), or "terrifying, unsettling" (National Post), depending on who you ask.
In television, Nygard has directed and edited episodes of the HBO series, THE MIND OF THE MARRIED MAN, as well as editing episodes of CURB YOUR ENTHUSIASM, and directing episodes of the FOX series THE BERNIE MAC SHOW and THE LOOP, the NBC series THE OFFICE, and the DisneyXD series ZEKE & LUTHER, and many others.
His current feature documentary is about THE NATURE OF EXISTENCE, asking why we exist, and what is man's purpose—little questions…big answers. Nygard traveled around the world interviewing religious scholars, physicists, artists, philosophers, spiritual visionaries, and others who have influenced, inspired, or freaked out humanity.
So, sit back, relax, and have a nice Coke with some popcorn. We are talking movies, after all.
Podcast: Download
Quotes
"All the mysteries of human existence, explained in one movie." — Roger Nygard
Web Links
Music for This Episode
Shakuhachi Meditations
The music heard in the middle of the podcast is from Rodrigo Rodriguez's CD, Shakuhachi Meditations. The tracks used in this episode are:
Category: The Secular Buddhist Podcast