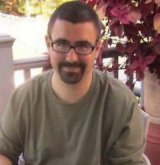 Adam Tebbe
Sweeping Zen founder Adam Tebbe joins us to speak about contemporary issues in Buddhism.
Many of you have heard me say in the past, "Question with confidence." That is, we should foster the development of an environment to have open and free inquiry into our beliefs, even those deeply cherished. That idea, question with confidence, was put very well long ago by Thomas Jefferson, who said, "Question with boldness even the existence of a God; because, if there be one, he must more approve of the homage of reason, than that of blind-folded fear."
Few people have represented the idea of free inquiry in our Buddhist practice as today's guest. Adam Tebbe is senior editor at The Buddhist Dispatch. He is also the founder of Sweeping Zen and Kannonji Zen Retreat in Second Life, a sangha which hosts events from Buddhist clergy using the virtual technology of Second Life. He trained to become a licensed chemical dependency counselor but found that he enjoys this work far better. He generally keeps his opining to his blog at Sweeping Zen. Adam also does some news gathering for Buddhadharma: The Practitioner's Quarterly, owned by the Shambhala Sun Foundation.
So, sit back, relax, and have a nice Dr. Pepper. How long has that been?
Podcast: Download
Books
Web Links
Music for This Episode
Shakuhachi Meditations
The music heard in the middle of the podcast is from Rodrigo Rodriguez's CD, Shakuhachi Meditations. The tracks used in this episode are:
Category: The Secular Buddhist Podcast