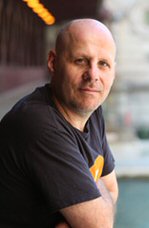 Eric Weiner
Author Eric Weiner speaks about his book, Man Seeks God: My Flirtations with the Divine.
In some way or other, we've all been seekers. Even if we've found that which satisfies us and fulfills us, getting there may have taken some experimentation. I suspect it's fairly uncommon for someone to alway be satisfied from the moment of birth!
This challenge of finding fulfillment is complicated when one is riding the edge of being a skeptic, but maintaining an openness to being spiritual. We may or may not mean spirituality in a supernatural sense, we may take it to be a perfectly natural way of living. But the endless choices remain. Do we join the local church because it's convenient, or because we deeply and truly believe in what is being said? Do we find our fulfillment comes from learning about science, or from joining a cult? Or do we simply donate our time at a homeless shelter?
These questions are often background noise that we don't really face directly. Even as meditators, though we may be looking moment by moment at physicality, our responses to stimulus, our perceptions, our thoughts, we may not be looking too closely at the context in which we do that examination. Does this teacher or center have a hard line about rebirth? Do I? And sometimes it takes a specific event in our lives to prompt us to take that ten-thousand foot view.
Eric Weiner became the first full-time foreign correspondent for NPR in India in1993. He spent two years based in New Delhi, covering everything from an outbreak of bubonic plague to India's economic reforms, before moving on to other postings in Jerusalem and Tokyo. Over the years, Eric reported from more than 30 countries, everywhere from Algeria to the Indonesia. Those experiences led to his writing The Geography of Bliss, a New York Times Bestseller that has been translated into 18 languages. In his latest book, Man Seeks God, Eric searched for a taste of the divine. He traveled to Kathmandu and Istanbul, and even Vegas, where he experienced first-hand the varieties of religious experience. Eric's commentaries and essays appear in the Los Angeles Times, Slate and The New Republic, among other publications. He writes regularly for a new travel magazine called AFAR, and is a former reporter for The New York Times.
So, sit back, relax, and have a nice Nepal Guranse Estate.
Podcast: Download
Books
Web Links
Music for This Episode
Shakuhachi Meditations
The music heard in the middle of the podcast is from Rodrigo Rodriguez's CD, Shakuhachi Meditations. The tracks used in this episode are:
Category: Book Reviews, The Secular Buddhist Podcast