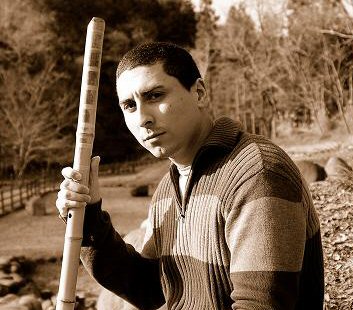 Rodrigo Rodriguez
Rodrigo Rodriguez speaks with us about shakuhachi music and his new album, Traditional and Modern Pieces Shakuhachi, in this bonus episode.
Hi, everyone. This week, May 2012, the podcast has had over two hundred thousand downloads. I'd like to celebrate this milestone by doing a special bonus episode in addition to the regular weekend schedule, with gratitude: gratitude to you listening now. It is because of your interest and enthusiasm that this podcast continues. Gratitude to our guests, it is because of their insight and kindness in the sharing of their knowledge and experience that we're able to bring you a variety of perspectives on our contemporary secular practice. And today, gratitude to one of the musicians who generously shares his talent and skill, adding his wonderful artistry to your experience with each episode.
Our guest today can be heard on many episodes of The Secular Buddhist, providing the musical interlude before each interview. And, thanks to him, we have an even greater selection to enjoy each week.
Born in Argentina, Rodriguez Rodriguez arrived to Spain in 1986. At an early age, he began to study modern and classical music, tutoring with with several teachers of classical guitar until he was 22 years old. Rodrigo's professional music career began in Spain, and it was there that he discovered the Shakuhachi flute. Fascinated by Japanese music, he travelled to Japan several times to enhance his knowledge. He studied classical and traditional Japanese music under the lineages of Katsuya Yokoyama with the Master Kakizakai Kaoru in the International Shakuhachi Kenshu-kan School.
In recent years he has performed numerous concerts in both the West and the East, at stages like Imperial Hotel Tokyo, NHK Culture events, and in the Temple Kotoku-in of the "Great Buddha" of Kamakura which is one of the most famous icons of Japan. He is also is working as full-time instructor for the Ministry of Education and Culture of the Balearic Island in Spain, spreading the Shakuhachi tradition, culture, and philosophy.
Rodrigo Rodriguez tour in Moscow, Russia
In 2011, Rodrigo received an invitation from the Russian Foreign Ministry of Culture and the prominent Moscow Conservatory (Moscow State PI Tchaikovsky Conservatory) to perform at the XIV International Music Festival "The Heart of Japan" ("Nihon-no kokoro"). Rodrigo gave the recital on December 8th 2011, promoting the school and Mu-Ryû, a style founded by his teacher Miyata Kohachiro, and has kindly provided a couple of photos from the event, shown below.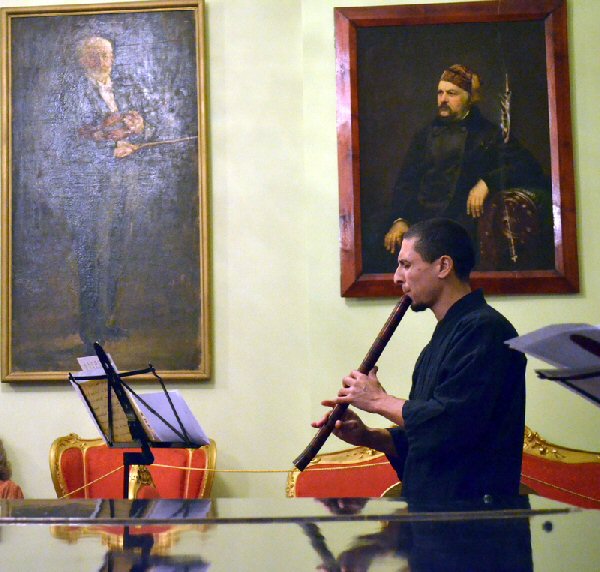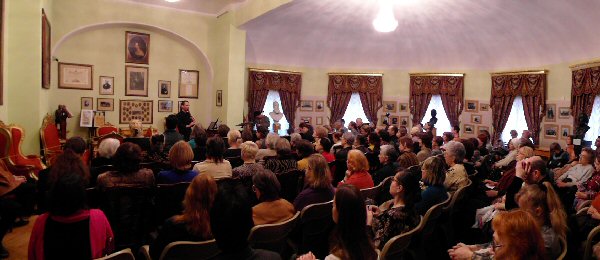 Podcast: Download
So, sit back, relax, and have a nice Jasmine Green Tea.
Music CD's
Web Links
Music for This Episode
Traditional and Modern Pieces Shakuhachi
The music heard in the middle of the podcast is from Rodrigo Rodriguez's CD Traditional and Modern Pieces Shakuhachi, courtesy of Rodrigo Rodriguez. The tracks used in this episode are:
For Two Shakuhachi
The Bird of Happiness
Beneath High Cliffs
Hon Shirabe
Category: The Secular Buddhist Podcast