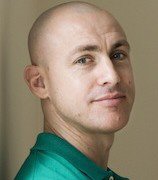 Andy Puddicombe
Andy Puddicombe speaks with us about his site and new book, Get Some Headspace: How Mindfulness Can Change Your Life in Ten Minutes a Day.
In what ways is Buddhist practice finding new forms in our contemporary society? What would a secular program of meditation look like, not just mindfulness, but also loving kindness, so that not just Buddhists benefit? And once we're no longer geographically constrained because of the opportunities of digital media, what can we expect to see?
Setting off to become a monk at the age of 22, Andy Puddicombe's meditation training took him all over the world, culminating with full ordination at a Tibetan Monastery in the Himalayas. Ten years later, Andy returned to the UK with the singular wish to demystify meditation, to make it accessible, relevant and beneficial to as many people as possible. When Andy finished his time as a monk, he did what all ex-monks do…he went back to university and did a
degree in Circus Arts. These days he's more interested in surfing and snowboarding than acrobatics, and working on Headspace, a website designed to support a secular meditation practice.
So, sit back, relax, and have a nice Pouchong Extra Fancy
Podcast: Download
Books
Web Links
Music for This Episode Courtesy of Rodrigo Rodriguez
The music heard in the middle of the podcast is from Rodrigo Rodriguez. The track used in this episode is "Night Temple" from his CD, Traditional and Modern Pieces: Shakuhachi.
Category: Book Reviews, The Secular Buddhist Podcast