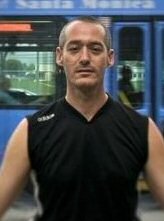 Julian Marc Walker
Today we speak with yoga instructor Julian Marc Walker about his online book, Devil In the Details: 3 Keys To Thinking More Clearly About Spirituality.
Secular Buddhism is, in many ways, suspended between two world views: that of the naturalistic and non-religious, and that of the faithful and religious. We often find ourselves brokering discussions between these very different poles, caught in the middle as we explore Buddhism's teachings and practice, couched in ancient tradition, with contemporary understanding of the world informed by science.
This is also true of other disciplines like yoga, which is also undergoing a protestant evolution. New ways of seeing the world seem to clash with ancient attempts to understand. We often get mired in discriminating attitudes, rather than collaborative investigations about how our predecessors in practice may have been trying to understand what they were discovering.
Julian Walker has been teaching yoga since 1994 and practicing Mind-Body Healing since 1997. He studied under Ana Forrest from 1992 to 1998 and was certified by her to teach. Influenced by American Buddhism, Tantra, and Transpersonal Psychology, Julian has led workshops across the United States and in Canada and has been training teachers and bodyworkers since 2001 and sharing his twice-a-year Transformation Retreats to Ojai since 2002. He weaves sacred poetry, world music, mythology and transformational themes into his deep stretch and flow yoga classes and is well known for his "Funky Friday" class that includes ecstatic dance.
So, sit back, relax, and have a nice Darjeeling.
Podcast: Download
Books
Quotes
"I've been in pursuit of integration. I think the underlying question for me has been, 'Is there a way to have a meaningful spiritually engaged life that is congruent with science and psychology and is really about seeing spirituality as a way to cut through delusion.'" — Julian Marc Walker
"Spirituality is often the domain of fuzzy logic and vague beliefs. But this need not be the case! Julian Walker identifies the three key mistakes in reasoning made again and again in our thinking about, and discussion of, subjects like God, The Big Bang, evolution, souls, astrology, psychics and other aspects of religion and pop spirituality." — Julian Marc Walker
Web Links
Music for This Episode Courtesy of Rodrigo Rodriguez
The music heard in the middle of the podcast is from Rodrigo Rodriguez. The track used in this episode is "Sagariha" from his CD, Traditional and Modern Pieces: Shakuhachi.
Category: The Secular Buddhist Podcast