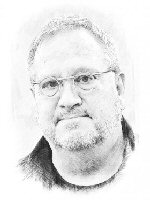 Dinty Moore
Author and teacher Dinty Moore speaks with us about his new book, The Mindful Writer: Noble Truths of the Writing Life.
Our practice can manifest in many ways, really in everything we do. But that is a decision, a choice we have, and sometimes we don't take it, instead continuing on automatic pilot. So what happens when we apply that decision, moment by moment, to being mindful to our more cerebral endeavors? It's one thing to be fully present in walking meditation, sweeping the floor, or brushing our teeth, but what about something like writing? And how might our foundational understanding of the Four Noble Truths of Buddhism impact what we write, and our experiences in putting a book together?
Dinty W. Moore is author of numerous books, including The Mindful Writer: Noble Truths of the Writing Life, The Accidental Buddhist: Mindfulness, Enlightenment, and Sitting Still, Crafting the Personal Essay: A Guide for Writing and Publishing Creative Nonfiction, and the memoir Between Panic & Desire, winner of the Grub Street Nonfiction Book Prize. Having failed as a zookeeper, modern dancer, Greenwich Village waiter, filmmaker, and wire service journalist, he now writes essays and stories. He has been published in The Southern Review, The Georgia Review, Harpers, The New York Times Sunday Magazine, The Philadelphia Inquirer Magazine, Gettysburg Review, Utne Reader, and Crazyhorse, among numerous other venues. Dinty lives in Athens, Ohio, where he grows his own heirloom tomatoes and edible dandelions, and teaches a crop of brilliant undergraduate and stunningly talented graduate students as director of Ohio University's BA, MA, and PhD in Creative Writing program.
So, sit back, relax, and have a nice Chocolate Chai. Tea scientists, snap to, I've not seen this combination yet.
Podcast: Download
Books
Web Links
Music for This Episode Courtesy of Rodrigo Rodriguez
The music heard in the middle of the podcast is from Rodrigo Rodriguez. The track used in this episode is "Kumoi Jishi" from his CD, The Road to Hasekura Tsunenaga: Music for Shakuhachi Flute.
Category: The Secular Buddhist Podcast