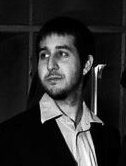 Bernat Font
Bernat Font joins us to speak about the new Spanish language secular Buddhism website, Budismo Secular.
Hi, everyone. This podcast started several years ago at the encouragement of someone dear to me, who lives in Mexico. She suggested several very good ideas about topics and themes, and eventually The Secular Buddhist began. Since that time we've seen in-person meditation groups start as the direct result of this podcast, our original site has been replaced and improved with one that includes greater functionality to support continued dialogue and collaborative exploration of how Buddhism is finding new ground in contemporary society, and as of this recording there are now ten websites in addition to our own secularbuddhism.org, spanning eight countries across the globe in three languages. The interest in a more naturalistic approach to traditional Buddhism continues to grow, and it's very gratifying to see the newest development, a Spanish language site, joining the mix. This episode is dedicated to my dear friend and teacher in Mexico, with gratitude and love — this wouldn't be here without you, Brat Girl.
Today's guest, Bernat Font, was born in Barcelona, Spain and was drawn to Buddhism at the early age of 14. He was likewise captivated by Tibetan culture and began to do volunteer work at Tibet House Foundation in Barcelona, but later distanced himself from dharma centers. Currently making a living as a jazz pianist, he got back on the buddhist track a couple of years ago and discovered the Pali tradition and the more modern approaches to Buddhism. To contribute in the circulation of these ideas in the Spanish-speaking audience, he has just launched budismosecular.org.
So, sit back, relax, and have a nice Tequila Sunrise.
Podcast: Download
Web Links
Music for This Episode Courtesy of Rodrigo Rodriguez
The music heard in the middle of the podcast is from Rodrigo Rodriguez. The track used in this episode is "Lady of the Snow" from his CD, Shakuhachi Meditations.
Category: The Secular Buddhist Podcast