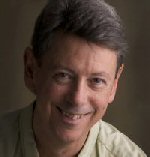 Dr. Rick Hanson
Dr. Rick Hanson returns to speak with us about his new book, Hardwiring Happiness: The New Brain Science of Contentment, Calm, and Confidence.
Our practice is a tricky one. It goes against the stream, it takes effort, and sometimes that effort isn't itself really clear. Are we trying to get somewhere, make a change, or are we perfect just as we are? Of course, we do suffer. Bare attention alone is a starting point, providing a wonderful learning springboard from which bhavana, or development, can occur. But what does that mean in contemporary terms?
Rick Hanson, Ph.D., is a neuropsychologist and author of Hardwiring Happiness: The New Brain Science of Contentment, Calm, and Confidence. Founder of the Wellspring Institute for Neuroscience and Contemplative Wisdom and Affiliate of the Greater Good Science Center at UC Berkeley, he's taught at Oxford, Stanford, and Harvard, and in meditation centers in Europe, North America, and Australia. An authority on self-directed neuroplasticity, Dr. Hanson's work has been featured on the BBC, NPR, Consumer Reports Health, and U.S. News and World Report, and his articles have appeared in Tricycle Magazine, Insight Journal, and Inquiring Mind. A summa cum laude graduate of UCLA, Dr. Hanson is a trustee of Saybrook University. He also served on the board of Spirit Rock Meditation Center for nine years, began meditating in 1974, trained in several traditions, and leads a weekly meditation gathering in San Rafael, CA. I would also like to thank Jenna Chandler for her efforts in coordinating today's interview, thank you, Jenna.
So, sit back, relax, and have a nice Mint Chamomile.
Podcast: Download
Video
Books
Web Links
Music for This Episode Courtesy of Rodrigo Rodriguez
The music heard in the middle of this podcast is from Rodrigo Rodriguez. You can visit his website to hear more of his music, get the full discography, and view his upcoming tour dates.
Category: The Secular Buddhist Podcast