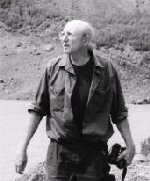 Charlie Fisher
Author Charlie Fisher joins us to speak about his new book, Meditation in the Wild: Buddhism's Origin in the Heart of Nature.
Contemporary practice may tend to be a bit… urban. We're crowded, most of us are in cities, and the concept of being a forest monastic is fairly distant from our experience. But how might immersion in nature affect our practice?
Charlie Fisher was a professor of sociology at Brandeis University in Massachusetts for 30 years. Among other subjects, he taught his students to meditate as part of the regular curriculum. From the mid 1970s through the mid 1990s Charlie was associated with the Insight Meditation Society. In 2007 he published a book on nature and meditation entitled Dismantling Discontent: Buddha's Way Through Darwin's World. An inadvertent heir to the Thai Forest Tradition, Charlie has spent long periods meditating in the woods with wild beings. Charlie lives in Woodacre, CA, occasionally teaches meditation, and assists in natural history field trips.
So, sit back, relax, and have a nice Evolution Tea Shisha.
Podcast: Download
Books
Web Links
Music for This Episode Courtesy of Rodrigo Rodriguez
The music heard in the middle of this podcast is from Rodrigo Rodriguez. You can visit his website to hear more of his music, get the full discography, and view his upcoming tour dates.
Category: The Secular Buddhist Podcast