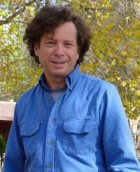 Jason Siff
Meditation teacher and author Jason Siff joins us again to speak about some of his reflections on Secular Buddhism.
If there's one thing we've tried to avoid doing in the Secular Buddhist Association, it's to define the dogma of Secular Buddhism, with capital letters. We've intentionally kept our guiding principles at a very high level, as a certain hypothesis has shown to be true: there are many kinds of secular approaches to Buddhism, there is no one and only right way to do it. Secular Buddhism is a big tent, and whether your focus is on the suttas, or science, or the practice of meditation, there is an open exploration of what this means to you, here and now.
Jason Siff, a Buddhist monk in Sri Lanka in the late 1980's, has been teaching meditation in the United States since 1990. He is the founding teacher of the Skillful Meditation Project in Los Angeles. He will teach Awareness of Thinking at BCBS August 13-17, 2014.
So, sit back, relax, and have a nice White Ginseng tea.
Podcast: Download
Quote
"Each individual will discover what is of value in the Buddha's teaching; and if that happens to disagree with what I consider profound, sacred, and true, it is not my role to assert one view of the Buddhadharma over another, but I do have the responsibility to educate others on my point of view and what I see as flaws in my view, and to respectfully and compassionately offer intelligent critiques of other points of view. I do believe that is the role of the teacher in a Secular Buddhist context — it is not to present one's own personal view as the only right view."
— Jason Siff
Books
Web Links
Music for This Episode Courtesy of Rodrigo Rodriguez
The music heard in the middle of this podcast is from Rodrigo Rodriguez. You can visit his website to hear more of his music, get the full discography, and view his upcoming tour dates.
Category: The Secular Buddhist Podcast