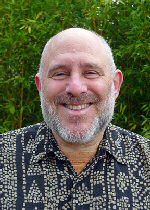 Bob Stahl
Buddhist and teacher of Mindfulness Based Stress Reduction teachers, Bob Stahl, joins us to speak about the alignment between Buddhism, and contemporary mindfulness.
Hi, everyone. Before we get started with today's episode, I want to remind the listeners that we've started a new podcast which may also interest you. It's called Present Moment: Mindfulness Practice and Science, and appears every other week, alternating with The Secular Buddhist. You'll find many of the same guests you've enjoyed and learned from here, as well as new researchers, teachers, and practitioners. You'll find Present Moment in the Science & Medicine section of iTunes, in Natural Sciences, or just do an iTunes Store seach for Mindfulness, and look in the results in the Podcasts section. You can also visit the website, PresentMomentMindfulness.com. Thanks for checking it out, and if you like what you hear, please feel free to share it with others.
There is a lot of talk these days between traditional Buddhism, and the mindfulness movement. I say "talk" because much of it is just that — talk. There's very little dialogue going on, and almost no friendly, let alone compassionate, exploration of what is meant by mindfulness, before all mindfulness gets dismissed with a wave of the term "McMindfulness". I admit quite openly, I have shared the concerns and misperceptions about programs like MBSR, and realized my misgivings were due to my own innocent ignorance. So I've done what any good Buddhist would do when honestly facing their own ignorance, I explored, I tried it out, I learned, and I practiced. And found something of value in what is being done, even outside the clinical setting. Of course there may still be poorly trained teachers or programs, but that is so with anything. It is only by open understanding and engagement that we can hope to ensure the positive intentional action bears fruit.
Bob Stahl, Ph.D. has founded 7 Mindfulness-Based Stress Reduction programs in medical centers throughout the San Francisco bay Area and currently directs programs at Dominican Hospital in Santa Cruz, El Camino Hospital in Mountain View and Los Gatos. Bob serves as a Senior Teacher for the Oasis Institute for Mindfulness-based Professional Education and Training. He is a co-author of "A Mindfulness-Based Stress Reduction Workbook", "Living With Your Heart Wide Open", "Calming the Rush of Panic", and "A Mindfulness-Based Stress Reduction Workbook for Anxiety". Bob is a long time practitioner of mindfulness meditation, having lived and practiced over eight years in a Buddhist monastery and is the guiding teacher at Insight Santa Cruz and a visiting teacher at Spirit Rock and Insight Meditation Society.
Note that Bob guides us in a mindfulness exercise in today's episode, and part of that is an intentional period of silence for practice.
So, sit back, relax, and have a nice Kocha.
Podcast: Download
Books
Web Links
Music for This Episode Courtesy of Rodrigo Rodriguez
The music heard in the middle of this podcast is from Rodrigo Rodriguez. You can visit his website to hear more of his music, get the full discography, and view his upcoming tour dates.
Category: The Secular Buddhist Podcast