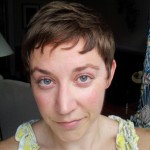 Katherine MacLean
Researcher and practitioner Katherine MacLean joins us in our first Unplugged episode.
One thing that often gets missed in the ongoing criticisms of scientific research being doing around meditation, is that the researchers are people. They are dedicated professionals, and passionate practitioners who nonetheless manage to maintain a boundary between their personal care for this transformative practice, and their integrity as scientists.
But that doesn't mean our fellow meditators aren't personally impacted, touched, and changed by what we have in common, our shared human experience. Their lives are perhaps a bit more deeply embedded in living the dhamma than we know, and how it changes them, makes them question, laugh, love, and live through the inevitable losses of those close to them, is truly inspiring.
This new series, Unplugged, sets aside the exploration of teaching, practice, and research, and instead allows an open and brave sharing of that humanity. It is my great honor that our friend Katherine MacLean was willing to be the first in this experiment, and by happy circumstance I got the rare treat of spending a day in person with her just last week. KMac and Holly, this episode is dedicated to you both, to your compassion, your drive, and your hearts — thank you.
Katherine MacLean grew up in Connecticut and received her bachelor's degree at Dartmouth College in the woods of New Hampshire. After a two-year stint recording brain activity in rhesus monkeys, she transitioned to studying primates who could talk about their subjective experiences: humans. During her graduate studies at the University of California, Davis, she worked with Ron Mangun on studies of visual attention and with Clifford Saron on the Shamatha Project – a longitudinal study of changes in behavior and brain function during intensive meditation training. She received her Ph.D. in Psychology in the fall of 2009 and subsequently joined the Behavioral Pharmacology Research Unit within the Johns Hopkins University School of Medicine as a postdoctoral fellow.
So, sit back, relax, and have a nice Yak butter tea.
Podcast: Download
Books
Music for This Episode Courtesy of Rodrigo Rodriguez
The music heard in the middle of this podcast is from Rodrigo Rodriguez. You can visit his website to hear more of his music, get the full discography, and view his upcoming tour dates.
Category: The Secular Buddhist Podcast