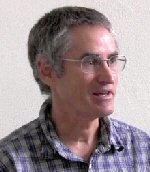 Gil Fronsdal
Gil Fronsdal joins us to speak about his upcoming book, a translation of the Pali Atthakavagga, The Book of Eights.
Not all the books in the Pali canon are easy to find in English, let along translations that resonate with contemporary sensibilities. The books of the Sutta Nipata are some of the earliest in the chronology of the canon, and our guest today will be discussing naturalized Buddhism, and how it relates to the Atthakavagga.
Gil Fronsdal is the primary teacher for the Insight Meditation Center in Redwood City, California; he has been teaching since 1990. He has practiced Zen and Vipassana in the U.S. and Asia since 1975, was a Theravada monk in Burma in 1985, and in 1989 began training with Jack Kornfield to be a Vipassana teacher. Gil teaches at Spirit Rock Meditation Center where he is part of its Teachers Council. Gil was ordained as a Soto Zen priest at the San Francisco Zen Center in 1982, and in 1995 received Dharma Transmission from Mel Weitsman, the abbot of the Berkeley Zen Center. Gil has an undergraduate degree in agriculture from U.C. Davis where he was active in promoting the field of sustainable farming. In 1998 he received a PhD in Religious Studies from Stanford University, studying the earliest developments of the bodhisattva ideal. He is the author of The Issue at Hand, essays on mindfulness practice; A Monastery Within; and a translation of The Dhammapada.
So, sit back, relax, and have a nice Earl Greyer tea.
Podcast: Download
Books
Web Links
Music for This Episode Courtesy of Rodrigo Rodriguez
The music heard in the middle of this podcast is from Rodrigo Rodriguez. You can visit his website to hear more of his music, get the full discography, and view his upcoming tour dates.
Category: The Secular Buddhist Podcast