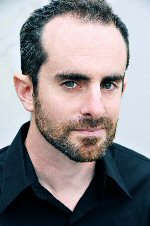 Jay Michaelson
Jay Michaelson returns to speak with us about his new book The Gate of Tears: Sadness and the Spiritual Path.
Hi, everyone. Before we get started with today's episode, I want to remind the listeners that we've started a new podcast which may also interest you. It's called Present Moment: Mindfulness Practice and Science, and appears every other week, alternating with The Secular Buddhist. You'll find many of the same guests you've enjoyed and learned from here, as well as new researchers, teachers, and practitioners. You'll find Present Moment in the Science & Medicine section of iTunes, in Natural Sciences, or just do an iTunes Store search for Mindfulness, and look in the results in the Podcasts section. You can also visit the website, PresentMomentMindfulness.com. Thanks for checking it out, and if you like what you hear, please feel free to share it with others.
Deep suffering is part of life, and of the Buddhist path. A mere surface understanding is, at most, just that: surface understanding. It's intellectual, abstracted from the depths of the experience of deep dukkha. So what happens when you're faced with tragedy, with loss so profound it shakes the foundations? Maybe you wouldn't expect it's even possible for that to co-exist with joy.
Rabbi Dr. Jay Michaelson is the author of six books, including Evolving Dharma: Meditation, Buddhism and the Next Generation of Enlightenment and the bestselling God vs. Gay? The Religious Case for Equality, as well as 300 articles in The Daily Beast, Tricycle, the Forward, and elsewhere. He is an affiliated assistant professor at Chicago Theological Seminary, and has been included on the 'Forward 50' list of influential American Jews. He holds a J.D. from Yale and Ph.D. from Hebrew University, and has taught spiritual practice at Fortune 500 companies, over 150 synagogues and meditation centers, Burning Man, and unlikely places around the world. Special thanks to Ethan Sobel for his help bringing Jay back to us as a guest.
So, sit back, relax, and have a nice Goose Island Honkers Ale.
Podcast: Download
Quote
"Equanimity is not the banishment of sadness. It is the acceptance of sadness for what it is, and the letting go of the desire for it to end." p. 75
Books
Web Links
Music for This Episode Courtesy of Rodrigo Rodriguez
The music heard in the middle of this podcast is from Rodrigo Rodriguez. You can visit his website to hear more of his music, get the full discography, and view his upcoming tour dates.
Category: The Secular Buddhist Podcast