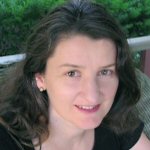 Sara Eckel
Sara Eckel joins us to talk about how Buddhist insights can inform our dating experience.
Though the Buddha really didn't date, per se, he was at one time married, and his wife and son were part of the rest of his life, even though that relationship changed. Whether you're single, in a relationship, married, or "it's complicated", dating can be tough. So what lights might Buddhism shed on being single?
Sara Eckel has been a full-time freelance writer since 1997. Her essays, arts criticism and reported pieces have appeared in The New York Times, The Washington Post, The BBC, The Boston Globe Magazine, Salon, The Shambhala Sun, and many other publications. For five years, Sara was a nationally syndicated opinion columnist, with her weekly column appearing in more than two-hundred newspapers nationwide. Sara studies meditation and Buddhist teachings at Sky Lake Lodge in Rosendale, NY, and the Shambhala Meditation Center of New York in New York City. She lives in Kingston, NY, with her husband.
So, sit back, relax, and have a nice Cupid's Bow Tea.
Podcast: Download
Books
Web Links
Music for This Episode Courtesy of Rodrigo Rodriguez
The music heard in the middle of this podcast is from Rodrigo Rodriguez. You can visit his website to hear more of his music, get the full discography, and view his upcoming tour dates.
Category: The Secular Buddhist Podcast