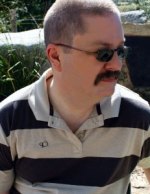 Jay Forrest
Jay Forrest returns to talk about his new book, Secular Buddhism: An Introduction
There are many books out today that are touching on a secular approach to the tradition. Some are very pragmatic and deeply rooted in practice, others are more scholarly conjecture. But few have taken the step of using the term "Secular Buddhism" explicitly in the title.
Jay N. Forrest, D.Min. is a Secular Buddhist who teaches weekly on the popular 5 Minutes Dharma podcast. He is a Certified Meditation Teacher with Aura Wellness Center. He studied a Christian form of Zen with Brian C. Taylor, the former Rector at St Michael's and All Angels Episcopal Church, and Insight Meditation with Sally Armstrong, a teacher at Spirit Rock Meditation Center. Jay's background and education is in Christianity. He became a born again Christian in 1983 and soon after he felt the call to the ministry. He did his undergraduate work at Central Bible College and Berean University, and holds a Doctorate of Ministry from Trinity Evangelical Christian University. He also received an honorary Doctorate of Divinity in 1999.
So, sit back, relax, and have a nice Honey Lime tea.
Podcast: Download
Books
Web Links
Music for This Episode Courtesy of Rodrigo Rodriguez
The music heard in the middle of this podcast is from Rodrigo Rodriguez. You can visit his website to hear more of his music, get the full discography, and view his upcoming tour dates.
Category: The Secular Buddhist Podcast