We should all be looking for ways to help alleviate the dukkha of the world on a larger scale than just our own minds. But doing so is a much bigger program than sitting on the cushion, one that requires money and coordination. As secularists we would prefer that these projects be done without sectarian exclusion or proselytization.
I imagine we are all aware of such secular, trans-national relief organizations as the Red Cross or Doctors Without Borders, but it's also nice to find smaller organizations that are more targeted on aspects of social justice.
Buddhist Global Relief (BGR), founded by Bhikkhu Bodhi, is one such organization, providing food, medicine and education in parts of Africa, Asia, and the Americas.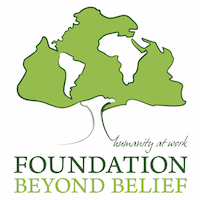 As secularists we should be happy to note that BGR has been re-awarded "featured beneficiary" status by the secular Foundation Beyond Belief (FBB):
Buddhist Global Relief (BGR) seeks to provide relief to the poor and needy throughout the world regardless of nationality, ethnicity, gender, or religion. Bearing in mind the Buddha's statements that "hunger is the worst kind of illness" and "the gift of food is the gift of life," BGR focuses on providing food aid to those afflicted by hunger and lack of food security.
The award is in the FBB's "Challenge the Gap" program, in which they "seek the best expressions of non-secular worldviews and have funded effective, non-proselytizing charities based in all five major world religions." As the FBB says,
What sets them apart from many other nonprofits attempting to tackle the broad issue of hunger is that BGR focuses its efforts on grassroots projects that address underlying causes of hunger and poverty, and they do so in a sustainable manner. For instance, as we covered in a previous blog post, BGR has funded several education projects that empower people, especially girls and women, to lift themselves out of poverty in the long term via better job opportunities.
For more on this award, see Bhikkhu Bodhi's reply, on the BGR website.
The Buddhist path can at times seem exclusively inward-focused, aimed at self-mastery and the attainment of happiness on an individual level. The practice of mettā and right action should, however, include outreach to the powerless and less fortunate among us, particularly those at risk of hunger and malnutrition. As I've noted before in its relation to Secular Humanism, Buddhism has been somewhat late to the game of social justice. Global relief efforts such as Bhikkhu Bodhi's deserve our support.
Buddhist Global Relief should be one organization we consider when thinking of where to put donations to work.