Please read our Code of Conduct before participating in this community.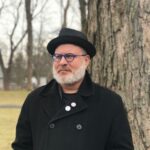 Stanford M. Forrester
Group: Registered
Joined: 2020-02-13
Been around the block for over 30 years. I'm a working poet who has written a lot about traveling on a buddhist path. I am also editor of bottle rockets: a collection of short verse-- a haiku journal celebrating its 21st year in print.
poet, editor, and dishwasher