Episode 103 :: Gay Hendricks :: Tinker Lindsay :: The First Rule of Ten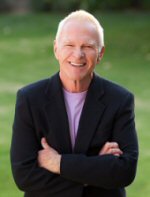 Gay Hendricks
Authors Gay Hendricks and Tinker Lindsay join us to talk about their new Buddhist-themed detective novel, The First Rule of Ten.
Hi, everyone. We've had some deep episodes lately, delving into our practice and ideals of Buddhism, to the growing of secular community. So today I'd like to take a step over to more lighthearted fare, and talk about something we don't get to talk about very often: a fiction detective novel with a Buddhist lead character, Tenzin.
Of course, we sneak in some practice components, too, especially around collaboration and how we work with others in our lives.
Gay Hendricks, Ph.D., has served for more than 35 years as one of the major contributors to the fields of relationship transformation and bodymind therapies. Along with his wife, Dr. Kathlyn Hendricks, Gay is the co-author of many bestsellers, including Conscious Loving and Five Wishes. He is the author of 33 books, including The Corporate Mystic, Conscious Living and The Big Leap. Dr. Hendricks received his Ph.D. in counseling psychology from Stanford in 1974. After a twenty-one-year career as a professor of Counseling Psychology at University Colorado, he and Kathlyn founded The Hendricks Institute, which is based in Ojai, California and offers seminars worldwide.
Tinker Lindsay
Tinker Lindsay writes and edit screenplays, books, book proposals, business plans, film treatments, and brochures. Her goal as a writer is to tell the truth, and her goal as consultant, ghost writer, and conceptual editor is to shape ideas into persuasive prose without losing the author's vision or voice. Tinker believes the collaborative process should be as enriching as the end product is satisfying. Skill and concentration are great, but humor's what lightens the load in the wee hours.
So, sit back, relax, and have a nice Chimay White. I'm probably mispronouncing that, but it's the beer Tenzin drinks.
Podcast: Play in new window | Download
:: Discuss this episode ::
Books
Video
Web Links
Music for This Episode
Rodrigo Rodriguez
The music heard in the middle of the podcast is from Rodrigo Rodriguez. The tracks used in this episode are: