Episode 114 :: Cheri Maples :: The Center for Mindfulness and Justice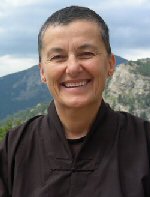 Cheri Maples
Meditation teacher and police officer Cheri Maples speaks with us today about The Center for Mindfulness and Justice.
Ever been pulled over by a cop? Even off duty police officers who get pulled over have said they experience the same tension as everyone else when that happens. We're nervous, even if we've done nothing wrong, and we all have preconceived notions, often about people — like police. Our minds expect the world to match these templates we have, and they often do. But our practice is also about closer examination, about sincerely and openly investigating our mental formations and gaining insight about them. There are, for example, top cops who are also top meditation teachers and advocates.
Cheri Maples is a dharma teacher, keynote speaker, and organizational consultant and trainer. In 2008 she was ordained a dharma teacher by Zen Master Thich Nhat Hanh, her long-time spiritual teacher. For 25 years Cheri worked in the criminal justice system, as an Assistant Attorney General in the Wisconsin Department of Justice, head of Probation and Parole for the Wisconsin Department of Corrections, and as a police officer with the City of Madison Police Department, earning the rank of Captain of Personnel and Training. Cheri has been an active community organizer, working in neighborhood centers, deferred prosecution programs, and as the first Director of the Wisconsin Coalition Against Domestic Violence. As Past President of the Dane County Timebank, Cheri was instrumental in creating its justice projects – the Youth Court, which is based on a prevention and restorative justice model; and the Prison Project, a prison education and reintegration initiative supported by multiple community groups. Cheri holds a J.D. and an M.S.S.W. from University of Wisconsin-Madison and is currently a licensed attorney and licensed clinical social worker in the state of Wisconsin. Special thanks to Maureen Brady for all her work in making the arrangements for today's interview. Maureen, your dedication is deeply appreciated.
So, sit back, relax, and have a nice Jasmine Silver Needles tea.
Podcast: Play in new window | Download
Web Links
Music for This Episode
Rodrigo Rodriguez
The music heard in the middle of the podcast is from Rodrigo Rodriguez. The tracks used in this episode are: