Episode 116 :: Yeshe Rabgye :: The Best Way to Catch a Snake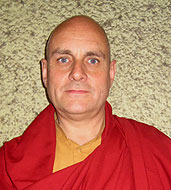 Yeshe Rabgye
Yeshe Rabgye speaks about having the progressive attitudes of a Westerner within the religious institution of an Asian tradition, and his new book The Best Way to Catch a Snake: A Practical Guide to the Buddha's Teaching.
People are tribal. We tend to gravitate to our particular groups, adhere to the ideals of those groups, and ignore, dismiss, or disparage other stances even when they are in close alignment with our own. We've seen this recently in online forums discussing Secular Buddhism, and a dividing line is drawn between that approach and traditional methods. And on the secular side, we may not have experience with positive interactions with those within religious institutions who nonetheless have progressive attitudes.
Fostering an open and friendly dialogue, asking questions with a sincere desire to understand, may show some surprising agreements.
Karma Yeshe Rabgye is a monk in the Kagyu tradition of Tibetan Buddhism. Originally from England, he now lives in a monastery in northern India. He conducts English, basic Buddhism and meditation classes for monks of all ages. Yeshe has studied with HH the Fourteenth Dalai Lama, HH the Seventeenth Karmapa, and many other prominent Buddhist lamas. He also helped found the Sangye-Menla Patients Charitable Trust, a non-profit organisation and hostel in Chandigarh, in 2008.
So, sit back, relax, and have a nice Masala Chai.
Podcast: Play in new window | Download
Quotes
"I see a lot of people being completely swept along by the Buddhist bandwagon, believing they have to buy everything 'Buddhist'. For example, once as I was waiting for a friend in a hotel lounge, I saw an American Buddhist magazine. I thought I'd read it to help me pass some time and picked it up. I was totally shocked to see so many advertisements on every page. There were things I had never heard of, but all the attractive ads suggested that I needed their help for me to become a 'real Buddhist'. There were designer meditation stools, which would look more at home in a torture chamber than in a Buddhist's home, there were extremely expensive red-and-white shawls being modelled by some very attractive 'Buddhists', there was even an electronic mala (prayer beads) that had an alarm fitted to it, which I presume rings once you reach enlightenment." — Yeshe Rabgye
"The real beauty of all of the Buddha's teachings is that they are based on natural laws and are not fabricated. Anyone can practise them, and there is absolutely no need to buy anything especially for learning it. This is because what the Buddha taught is inside you, and only you can free this potential. All the rites, rituals, and ceremonies that have been tagged onto the foundation teachings of Buddhism are just an outer religious covering." — Yeshe Rabgye
Books
Web Links
Music for This Episode
Rodrigo Rodriguez
The music heard in the middle of the podcast is from Rodrigo Rodriguez. The tracks used in this episode are: