Episode 129 :: Thupten Lekshe :: Benefits and Challenges to Secular Buddhism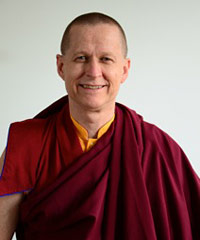 Thupten Lekshe
Thupten Lekshe joins us to provide insights and companionable discussion on the potential benefits and challenges to secular Buddhism.
There are a lot of discussions online lately, about a wide variety of topics. And it seems that, for some reason, very few of them are in the polite tone we use face to face. That makes it all the more difficult to have a dialogue, let alone make any kind of progress. We're not seeing each other online as people, and every week we see back and forth comments deteriorate into strict adherence to being right, showing the other person is wrong, or worse — backhanded insults or outright personal attacks.
Today, we're going to have a conversation where we don't have agreement on all points, and in fact have very divergent points of view. This episode is not about one person being right and another wrong. It is about sharing, about learning, about understanding more about why someone else thinks and feels the way they do. Inevitably, that is going to vary from our own perspective. Today is about open communication, and the building of companionable dialogue with new friends.
Alongside his work as a clinical psychologist for more than thirty years, Thupten Lekshe has been a student of Tibetan Buddhism. He was ordained as a Buddhist monk in 2000 by His Eminence Chogye Trichen Rinpoche, and now works actively to bring a western psychological perspective to Buddhist practice and a more spiritual dimension to psychotherapy. Thupten Lekshe specialises in the use of mindfulness practice as an adjunct to evidence based psychotherapies, and in secular approaches to Buddhism. He has trained in the delivery of Cultivation Emotional Balance (CEB) a new course for the general public designed by Dr. B. Alan Wallace and Dr. Paul Ekman. CEB mixes contemplative and emotional regulation skills drawn from western science and mind training practices drawn from Buddhism.
So, sit back, relax, and have a nice Giddapahar Estate Green Darjeeling tea.
Podcast: Play in new window | Download
Books
Web Links
Music for This Episode Courtesy of Rodrigo Rodriguez
The music heard in the middle of the podcast is from Rodrigo Rodriguez. The track used in this episode is "Eleven Waterfalls" from his CD, The Shakuhachi.