Episode 132 :: Adam Eurich :: Seeking Heartwood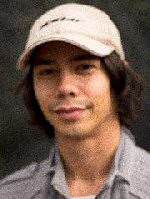 Adam Eurich
Film maker Adam Eurich speaks with us about the development of his movie 'Seeking Heartwood'.
What does Buddhism look like, in all its diversity, in contemporary society? How is it taking root and growing in the variety of different conditions we find today in America, in the U.K., in Australia, Germany, Austria, and France? And perhaps even more importantly, how do we contribute to this change rather than just being consumers of it? How do we give back?
For some people, it's teaching. For others, it's supporting their local sangha, or writing a blog. There are so many ways we clever little bipeds can create, can build, can nurture. What ways do you use your talents, every day?
A self-educated, one man documentary film-making crew, Adam Eurich originally studied engineering at UT Austin. After a 5-year career as a structural engineer in Washington, DC, he left that life behind to explore his passion – Buddhism. Prior to this major change, he had practiced for over ten years in nearly every major tradition, interviewing with Zen masters, surviving the Theravadan vipassana retreats, and performing Tibetan rituals and visualizations. To further explore Buddhism in America, he embarked on what has become a 21-month long road trip to create a documentary film about the Buddha's teachings and how they're manifesting in our modern society. Adam documents his journey into American Buddhism through a blog and photography on his site SeekingHeartwood.com. Special thanks to our dear friend Linda Blanchard for introducing me to Adam, this episode would not have happened without your foresight and kindness.
So, sit back, relax, and have a nice cool drink from a mountain stream. Can you tell I just got back from Colorado?
Podcast: Play in new window | Download
Quotes
"I'm going to do something…. I'm going to get a camera, and I'm going to go around the country, and I'm going to find out how well people express dhamma." — Adam Eurich
Videos
Books
Web Links
Music for This Episode Courtesy of Rodrigo Rodriguez
The music heard in the middle of the podcast is from Rodrigo Rodriguez. The track used in this episode is "Kyden no Kurayami" from his CD, Beyond the Times.