Episode 139 :: Chris McKenna :: Bardo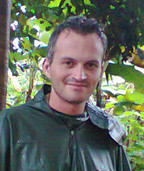 Chris McKenna
Author Chris McKenna speaks with us about his new Buddhist themed fiction book, Bardo.
More and more, we're seeing an increase in the mainstream media of Buddhist practices and ideas. There is Buddhist inspired rock and roll, art sites that focus on Buddhist themes, and happily for those of us who are avid readers, plenty of books that address Buddhist topics. And, also happily, some of these are fiction stories that take their inspiration from Buddhism.
Chris McKenna is from Blantyre, Scotland in the United Kingdom. He has a background in computer science having graduated from the University of Strathclyde, and worked for a few years in the programming industry in both Scotland and subsequently in Vienna, Austria with a company called Altova. Chris is currently working as an English language teacher near Jakarta.
So, sit back, relax, and have a nice Balvenie Doublewood, neat.
Podcast: Play in new window | Download
Books
Web Links
Chris McKenna Stories
Paradigms website
Chris McKenna at Great Minds
Music for This Episode Courtesy of Rodrigo Rodriguez
The music heard in the middle of the podcast is from Rodrigo Rodriguez. The track used in this episode is "Shunyata" from his CD, Shakuhachi Meditations.