Episode 162 :: Vince Horn :: Buddhist Geeks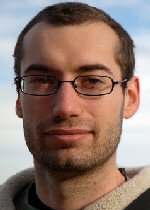 Vince Horn
Vince Horn joins us to talk about his work on Buddhist Geeks.
Buddhism is being impacted by a lot lately. Not only is it faced with the selective pressures of modernity, but the digital revolution is creating new evolutionary opportunities. These two forces are squishing Buddhism and other traditions into radically new shapes, and the process of change is sometimes uncomfortable. We can, however, embrace the dukkha, fully know it, and engage in an ongoing dialogue about what the future might look like. Few people have done more to move us in that direction than today's guest.
Vincent Horn is a Buddhist Geek and digital innovator. In addition to being an experienced meditation practitioner and teacher, he co-founded the popular media company Buddhist Geeks where he currently serves as Chief Geek. His work focuses on the fusion of nascent technology and contemplative wisdom, and has been featured on the pages of Wired, Fast Company, Tricycle, and the Los Angeles Times. Along with his wife Emily, he makes his home in Boulder, Colorado.
So, sit back, relax, and have a nice 1998 Pu-ehr tea from Maison des Trois Thés in Paris. Special thanks to Toby Cann for this recommendation, and my apologies to all living beings for my horrid pronunciation.
Podcast: Play in new window | Download
Books
Web Links
Music for This Episode Courtesy of Rodrigo Rodriguez
The music heard in the middle of the podcast is from Rodrigo Rodriguez. The track used in this episode is "This Time to the West" from his CD, Traditional and Modern Pieces: Shakuhachi.