Episode 163 :: Tuere Sala :: People of Color Sanghas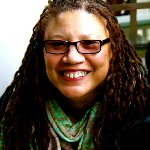 Tuere Sala
Meditation teacher and community leader Tuere Sala speaks with us about moving from a monotheistic tradition to Buddhism, and supporting the growth of diversity in our sanghas.
Our race is more than simply the color of our skins. There are subtle but profound cultural templates, and ways of thinking, that permeate and motivate us in what we do. Safety isn't always just being physically secure, but emotionally, idiologically having a place of mental and physical belonging and ease. How we get there can be quite a challenge.
Tuere Sala has been a Vipassana meditation practitioner for over 20 years. She has been a practicing member of Seattle Insight Meditation Society since 2001, and teaches beginning and post-beginning meditation classes. Tuere also facilitates daylong workshops around using nonviolent communication to support a mindfulness practice, and has participated in the Spirit Rock Community Dharma Leader Program.
So, sit back, relax, and have a nice Seattle's Best coffee.
Podcast: Play in new window | Download
Quotes
"We need to bring the dharma beyond where it's been. We need to be able to teach the unusual practitioner, the outcast practitioner," Sala says. "You can't get to those deep places without someone there to guide you, to hold your truth while you take a chance with yourself." — Tuere Sala
Books
Web Links
Music for This Episode Courtesy of Rodrigo Rodriguez
The music heard in the middle of the podcast is from Rodrigo Rodriguez. The track used in this episode is "Traces of Truth" from his CD, Traces of Truth.