Episode 166 :: David Webster :: Dispirited: How Contemporary Spirituality Makes Us Stupid, Selfish and Unhappy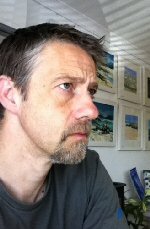 David Webster
Author and teacher David Webster joins us to speak about his book, Dispirited: How Contemporary Spirituality Makes Us Stupid, Selfish and Unhappy.
What happens when we have the ability to pick and choose components from various religious traditions, and try to integrate them into our practice? This cafeteria spirituality as it's sometimes called, can be very appealing. Rather than having to accept, whole cloth, every supernatural assertion, ritual, and nuance of a particular lineage, in today's society we may have the ability to be more selective. Secular Buddhism is certainly growing as a distinct type of Buddhist practice because of that freedom to choose.
But, there are certain risks associated with cafeteria spirituality, as we make choices based on what's easy, rather than what's helpful.
David Webster holds a Ph.D. in Buddhist Studies and currently teaches religion, philosophy, and ethics at the University of Gloucestershire. He has worked for various Universities, and has studied Philosophy, Hinduism and Buddhist thought at Sunderland Polytechnic (and later when it was a University) and at Newcastle University. In addition to scholarly works on Buddhism and desire, the nature of belief, and other topics in Buddhist studies and the Philosophy of Religion, David has also written about the blues, and death in religions.
So, sit back, relax, and have a nice pear martini, in honor of German brain scientists working in California. It's a long story, just go with it.
Podcast: Play in new window | Download
Books
Web Links
Music for This Episode Courtesy of Rodrigo Rodriguez
The music heard in the middle of the podcast is from Rodrigo Rodriguez. The track used in this episode is "Beneath High Cliffs" from his CD, Traditional and Modern Pieces: Shakuhachi.