Episode 171 :: Anita Feng :: Raku Pottery and Buddhist Art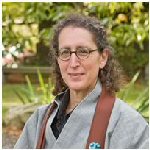 Anita Feng
Zen teacher and artist Anita Feng joins us to speak about raku pottery in contemporary Buddhist art.
Early Buddhist art was missing one particular figure: Buddha. That changed over time, as Buddhism reached new shores and cultures, as the teaching itself has found new forms of expression. We see a growth of artistic expression, not just practice techniques, as Buddhism encounters contemporary Western influences, still finding ways to inspire us.
Anita Feng has practiced Zen in the lineage of Zen Master Seung Sahn since 1976. In the late '70s she lived and studied intensively with Zen Master Seung Sahn at the Providence Zen Center. Since the '90s she has studied under the guidance of Zen Master Ji Bong, receiving Inka in 2008. Anita works as a ceramic artist making raku Buddhas. She lives with her family in Seattle, Washington.
I'd also like to extend a special thanks to our friend Rodrigo Rodriguez, who has generously allowed us to feature sound clips from his new release, The Road of Hasekura Tsunenaga: Music for Shakuhachi Flute, appearing for the first time on this podcast with a clip from the piece "Kogarashi".
So, sit back, relax, and have a nice Cherry Coke.
Podcast: Play in new window | Download
Books
Web Links
Music for This Episode Courtesy of Rodrigo Rodriguez
The music heard in the middle of the podcast is from Rodrigo Rodriguez. The track used in this episode is "Kogarashi" from his CD, The Road of Hasekura Tsunenaga: Music for Shakuhachi Flute.