Episode 180 :: Sarah Barker, Amy Boyle, Ian Dodd :: Sunday Assembly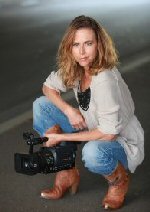 Sarah Barker, Amy Boyle, and Ian Dodd join us to speak about bringing a secular Sunday Assembly to the City of Angels.
Why do we congregate? Why is it we seem to have this human interest to come together in groups? It's more than just loneliness, of course. There's an affirmation of belonging, of identity, and perhaps even some kind of personal encouragement for us in these basic communal activities.
Communities can take many forms, and one thing traditional models have is a lot of practice providing that kind of support. But how about us secularists? And how can we provide the kind of structure which not only respects our unbelief, but takes it a few steps further and fosters the development of pro-social bridge building and sharing of our common human experience? The Sunday Assembly might be one way to accomplish just that.
Sarah Barker
Sarah Barker has always believed that truth makes for much more enticing storytelling than fiction. Sarah is the Creator of "You Are Here TV," a documentary web-series that explores the rich, varied and rapidly growing secular community in Los Angeles. Sarah holds an M.F.A in Film Production from Chapman University's prestigious Dodge College of Film & Television and worked in the television industry for both Technicolor and HBO for many years as an ADR & Dialogue Editor. She is also a freelance filmmaker/documentarian and producer/writer/editor with RightAfterThis.com Broadcast Production & Creative. Sarah is currently in post-production with two more episodes of "You Are Here TV", and a feature documentary, "Atheist Camp," currently in pre-production. Sarah has taught radio, television and film production for over 10 years and served as the head of the Media Communications Department with Genesee Community College in Western, New York. Currently Sarah is Television & Radio Production faculty with Pasadena City College in Pasadena, California.
Amy Boyle
Amy is a writer, skeptic and community organizer who dabbles in politics. She recently worked as a local field director in the 2012 presidential campaign and is interested in promoting lasting grassroots communities for the common good.
Ian Dodd
Ian Dodd was raised as an atheist and secular humanist in a small, religiously conservative town. As a young adult he went searching for that ineffable "something more" and explored a variety of New Age practices. Along the way, he read "The Tao of Physics" and discovered he was more enchanted by the physics than the Tao part, and thus was born his love of science. Another discovery was Buddhism with its emphasis on experience, compassion and healthy skepticism, and thus he began a not as consistent-as-he-would-like practice over the past decade. For the past several years, he has been an active member of his local Unitarian church where he co-founded a freethought group for non-theists within the church and is now involved with launching the Sunday Assembly-Los Angeles, the next grand experiment in creating secular sangha.
So, sit back, relax, and have a nice California Dream.
Podcast: Play in new window | Download
Video
Web Links
Music for This Episode Courtesy of Rodrigo Rodriguez
The music heard in the middle of the podcast is from Rodrigo Rodriguez.