Episode 181 :: Myoan Grace Schireson :: Guidance and Therapy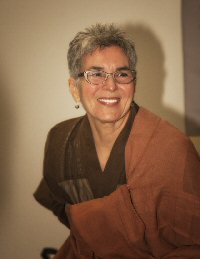 Myoan Grace Schireson
Myoan Grace Schireson joins us to speak about the distinguishing characteristics of providing guidance in meditation, and how to avoid becoming a student's therapist.
One of the many challenges a meditation teacher can face, is that sometimes our role as teachers becomes tangled with providing therapy. It's a very common occurrence, but without proper training, rather than reducing suffering for self and others, we may inadvertently increase it. So how do we recognize that line is being approached, and what can we do to skillfully move things in a beneficial direction for everyone involved?
Abbess Myoan Grace Schireson is the founder and head teacher of the Empty Nest Zen Group, Modesto Valley Heartland Zen Group, and the Fresno River Zen Group. Grace is a Dharma heir in the lineage of Shunryu Suzuki-roshi, founder of the San Francisco Zen Center. Grace has practiced Zen meditation for more than 35 years and is author of the book Zen Women: Beyond Tea Ladies, Iron Maidens and Macho Masters. In the United States she has undergone her Soto Zen training with Sojun Mel Weitsman-roshi of Berkeley Zen Center, from who she received Dharma transmission in 2005. Grace also has trained in Rinzai Zen in Japan under Keido Fukushima-roshi, retired abbot of Tofuku-ji Monastery located in Kyoto. She has taught classes on Zen throughout the United States and has also been trained as a clinical psychologist, teaching Asian methods of quieting the mind using techniques suitable for Westerners.
So, sit back, relax, and have a nice Gyokuro tea — Grace's favorite.
Podcast: Play in new window | Download
Books
Web Links
Music for This Episode Courtesy of Rodrigo Rodriguez
The music heard in the middle of this podcast is from Rodrigo Rodriguez. You can visit his website to hear more of his music, get the full discography, and view his upcoming tour dates.