Episode 190 :: Jay Michaelson :: Evolving Dharma: Meditation, Buddhism, and the Next Generation of Enlightenment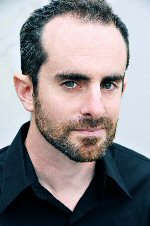 Jay Michaelson
Jay Michaelson joins us to speak about his new book, Evolving Dharma: Meditation, Buddhism, and the Next Generation of Enlightenment.
Hi, everyone. Before we get started with today's episode, I want to remind the listeners that we've started a new podcast which may also interest you. It's called Present Moment: Mindfulness Practice and Science, and appears every other week, alternating with The Secular Buddhist. You'll find many of the same guests you've enjoyed and learned from here, as well as new researchers, teachers, and practitioners. You'll find Present Moment in the Science & Medicine section of iTunes, in Natural Sciences, or just do an iTunes Store search for Mindfulness, and look in the results in the Podcasts section. You can also visit the website, PresentMomentMindfulness.com. Thanks for checking it out, and if you like what you hear, please feel free to share it with others.
As we continue to explore how Buddhism is finding ground in contemporary Western society, we run into the question of enlightenment. As a follow-up to our previous episode with Kenneth Folk, we're going to take another look with Dr. Jay Michaelson as he discusses what he's discovered while researching his new book.
Jay is the author of five books and two hundred articles on religion, sexuality, law, and contemplative practice. Jay is a longtime LGBT activist who has held positions at the Arcus Foundation and Political Research Associates. Jay's work in this area has been featured on CNN, NPR, and in the New York Times, and he has been included on the Forward 50 list of the most influential American Jews and the Huffington Post's list of leading LGBT religious voices. Jay holds a J.D. from Yale, a Ph.D. in Jewish Thought at the Hebrew University, a B.A. from Columbia, and an M.F.A. from Sarah Lawrence. He has also trained extensively in Theravadan Buddhism, including several long retreats in the United States and Nepal. Jay has held teaching positions at Boston University Law School, Harvard Divinity School, City College of New York, and Yale University, and is currently an adviser to the Varieties of Meditative Experience project at Brown University.
So, sit back, relax, and have a nice Pumpkin Spice tea..
Podcast: Play in new window | Download
Books
Web Links
Music for This Episode Courtesy of Rodrigo Rodriguez
The music heard in the middle of this podcast is from Rodrigo Rodriguez. You can visit his website to hear more of his music, get the full discography, and view his upcoming tour dates.