Episode 196 :: Ramsey Margolis :: Year of Living Without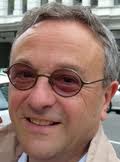 Ramsey Margolis
Ramsey Margolis joins us once more to speak about his exploration of what it's like to give up just one thing each month, for a year.
A big part of Buddhism is the concept of letting go, and we often use that in the context of our mental formations. But it's not just that, letting go is also about any kind of attachment we may have. Putting that into practice, however, can be difficult in our culture, so firmly entrenched in material gain.
Ramsey Margolis started a sitting group in 1999 which developed into Wellington Insight Meditation Community. A secular Buddhist practitioner since the late 1990s, he claims two passions in life (apart from his lovely wife): good food and the printed word. Ramsey's intention is to help create a culture of generosity.
So, sit back, relax, and have a nice Don Wilfredo Espresso from People's Coffee.
Podcast: Play in new window | Download
Web Links
Music for This Episode Courtesy of Rodrigo Rodriguez
The music heard in the middle of this podcast is from Rodrigo Rodriguez. You can visit his website to hear more of his music, get the full discography, and view his upcoming tour dates.