Episode 197 :: Jacob Hess :: Mindfully Mormon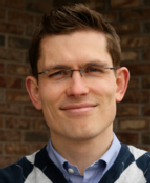 Jacob Hess
Jacob Hess joins us to speak about applying a Buddhist originated mindfulness practice, with a Mormon community.
Hi, everyone. Before we get started with today's episode, I want to remind the listeners that we've started a new podcast which may also interest you. It's called Present Moment: Mindfulness Practice and Science, and appears every other week, alternating with The Secular Buddhist. You'll find many of the same guests you've enjoyed and learned from here, as well as new researchers, teachers, and practitioners. You'll find Present Moment in the Science & Medicine section of iTunes, in Natural Sciences, or just do an iTunes Store search for Mindfulness, and look in the results in the Podcasts section. You can also visit the website, PresentMomentMindfulness.com. Thanks for checking it out, and if you like what you hear, please feel free to share it with others.
Whether you think of it as a watering down of Buddhism or not, mindfulness is mainstreaming. And like a secular approach to the tradition, it's finding that this opens doors which would otherwise remain closed. I had an opportunity recently to speak with a fellow mindfulness educator, and hear more about how he's taking the practice to an audience we might not think of being as interested, accepting, and eager for it as they are. Perhaps their openness can be an example to others.
Jacob Hess is Co-Founder of All of Life. He holds a doctorate degree in Clinical-Community Psychology from the University of Illinois at Urbana-Champaign and was psychology department valedictorian at Brigham Young University. He has recently worked as Research Director at Utah Youth Village, a non-profit for abused children in Utah. Jacob has authored 13 peer-reviewed articles and two books, including a new exploration of American romance. He is married to Monique Moore and has one 22 month-old boy who makes sure his daddy smiles at least 9 times a day.
So, sit back, relax, and have a nice Tazo orange tea.
Podcast: Play in new window | Download
Books
Web Links
Music for This Episode Courtesy of Rodrigo Rodriguez
The music heard in the middle of this podcast is from Rodrigo Rodriguez. You can visit his website to hear more of his music, get the full discography, and view his upcoming tour dates.