Episode 202 :: Gary McDonald :: The Fourth Noble Truth Movie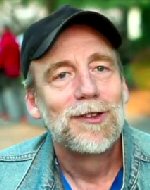 Gary McDonald
Film maker Gary McDonald joins us to speak about his movie, The Fourth Noble Truth.
We're seeing more Buddhism in film these days. Many are documentaries, there are two of which in various stages of production that we've spoken about on this podcast alone. But few expressly Buddhist fiction films targeted to a Western audience.
After Gary T. McDonald's first film became a finalist for the Student Film Oscar Nomination, he was asked to participate in a special summer-long Method acting training program conducted by actor/filmmaker Dennis Hopper. Soon thereafter, Gary wrote and directed the critically acclaimed feature "Rape/Crisis," which won the Grand Prix at the Mostra du Film d'Epernay in France and First Prize at the Athens International Film Fest. After being selected as one of four young directors to participate in AFI's annual Director Internship Program, Gary was mentored by Ron Howard on "Cocoon." Following that, he served as a producer on "The Thin Blue Line" and "Doctor Death," directed "The Sea Wolf," and sold a screenplay about John Dillinger called "Tommy Boys" to Twentieth Century Fox.
So, sit back, relax, and have a nice Casablanca.
Podcast: Play in new window | Download
Web Links
Music for This Episode Courtesy of Rodrigo Rodriguez
The music heard in the middle of this podcast is from Rodrigo Rodriguez. You can visit his website to hear more of his music, get the full discography, and view his upcoming tour dates.