Episode 217 :: Greta Christina :: Comforting Thoughts About Death That Have Nothing To Do With God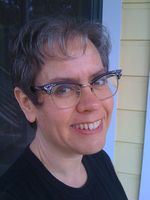 Greta Christina
Author Greta Christina joins us to speak about her new minibook, Comforting Thoughts About Death That Have Nothing To Do With God.
Given enough time, the survival rate of life is exactly zero. There are no exceptions; at some point, we will all die. Different religions, including Buddhism, have different assertions about what happens when we die that are conflicting, and yet spoken about with glib certainty — by the living, who've managed to still have a pulse. So, what about us atheists, secular humanists, and secular Buddhists? What ideas come up for us in our natural-centric world view?
Greta Christina has been writing professionally since 1989, on topics including atheism, sexuality and sex-positivity, LGBT issues, politics, culture, and whatever crosses her mind. She is author of "Why Are You Atheists So Angry? 99 Things That Piss Off the Godless," and of "Bending: Dirty Kinky Stories About Pain, Power, Religion, Unicorns, & More," and is editor of "Paying For It: A Guide for Sex Workers for Their Clients." She has been a public speaker for many years, and is on the speaker's bureaus of the Secular Student Alliance. Her writing has appeared in multiple magazines and newspapers, including Ms., Penthouse, Chicago Sun-Times, On Our Backs, and Skeptical Inquirer, and numerous anthologies, including "Everything You Know About God Is Wrong" and three volumes of "Best American Erotica." She lives in San Francisco with her wife, Ingrid.
So, sit back, relax, and have a nice Tab, because how long has it been since you've had one of those?
Podcast: Play in new window | Download
Books
Web Links
Music for This Episode Courtesy of Rodrigo Rodriguez
The music heard in the middle of this podcast is from Rodrigo Rodriguez. You can visit his website to hear more of his music, get the full discography, and view his upcoming tour dates.