Episode 218 :: David McRaney :: You Are Not So Smart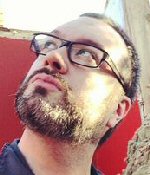 David McRaney
David McRaney joins us to speak about delusion from his blog and book, You Are Not So Smart: Why You Have Too Many Friends on Facebook, Why Your Memory Is Mostly Fiction, and 46 Other Ways You're Deluding Yourself.
How do we know, what we know? Think about it. How many times have we heard someone say they're really sure about something, and not only have they maybe not been correct, but they were…. well, us. With the proliferation of digital technology, we've greatly increased our ability to share information, and mis-information. A healthy dose of skepticism, partnered with good critical thinking skills, can help prevent us from contributing to the dumbing down of society as we learn to question appropriately and well.
David McRaney created the blog You Are Not So Smart, which became an internationally bestselling book now available in 14 languages, and a podcast. His second book, You Are Now Less Dumb, was released in 2013. David was a newspaper reporter covering Hurricane Katrina on the Gulf Coast and in the Pine Belt region of the Deep South. Later, he covered things like who tests rockets for NASA, what it is like to run a halfway home for HIV-positive
homeless men, and how a family sent their kids to college by making and selling knives. Since then, he has been an editor, photographer, voiceover artist, television host, public speaker, and tornado survivor. David worked for several years as the head of digital media for WDAM-TV where he also produced The Green Couch Sessions, a TV show about the music of the Deep South, and he loves making things that people can hear, watch, or read.
So, sit back, relax, and have a nice Sweet Tea.
Podcast: Play in new window | Download
Books
Web Links
Music for This Episode Courtesy of Rodrigo Rodriguez
The music heard in the middle of this podcast is from Rodrigo Rodriguez. You can visit his website to hear more of his music, get the full discography, and view his upcoming tour dates.