Episode 224 :: Ian Lawton :: The Dharma Bum Dhammaloka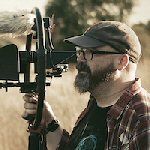 Ian Lawton
Ian Lawton joins us to speak about his film project The Dharma Bum, a documentary film about Irish atheist freethinker Laurence Carroll, who went on to become one of the first Westerners to become a Buddhist monk.
History is written by the victors. That's true within Buddhism, too, and not just the evolutionary path of the early Pali canon, but even in more modern times. Political agendas worm their way into the dharma, and as recent research indicates, maybe giving credit where credit is not due about being the first Western Buddhist monk.
Ian Lawton is a multi-award winning filmmaker living & working in the midlands of Ireland. His films have been seen all over the world. You can view his work by visiting Reasonably Shorts.com.
So, sit back, relax, and have a nice Guinness.
Podcast: Play in new window | Download
Video
THE DHARMA BUM | TEASER TRAILER from Reasonably Shorts on Vimeo.
Web Links
Music for This Episode Courtesy of Rodrigo Rodriguez
The music heard in the middle of this podcast is from Rodrigo Rodriguez. You can visit his website to hear more of his music, get the full discography, and view his upcoming tour dates.