Episode 225 :: Paul Verhaeghen :: Secular Buddhist Ethics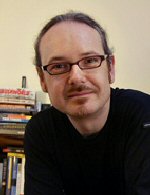 Paul Verhaeghen
Paul Verhaeghen joins us to speak about secular Buddhist ethics.
One of the common criticisms us atheists and sometimes us Buddhists receive is that we have no morals without a deeply religious conviction to guide us. And yet, many of us secular Buddhists manage to curb our murderous tendencies, and fit right in with an unsuspecting public. So how can that possibly be, without the lamp of faith to light our way in the darkness?
Paul Verhaeghen is Professor of Psychology at Georgia Tech, researching cognition and brain science, and cognitive aging.
So, sit back, relax, and have a nice Tranquili-tea.
Podcast: Play in new window | Download
Web Links
Music for This Episode Courtesy of Rodrigo Rodriguez
The music heard in the middle of this podcast is from Rodrigo Rodriguez. You can visit his website to hear more of his music, get the full discography, and view his upcoming tour dates.