Episode 228 :: BJ Leiderman :: NPR Music, Meditation, and Moving from Sound to Silence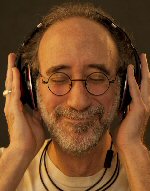 BJ Leiderman
Music composer BJ Leiderman joins us to speak about his meditation practice, and the music world.
Meditation knows no bounds. Its effects can touch us in the workplace, at home, in how we relate to one another and ourselves, and even — or perhaps least surprisingly — in the creative ways we express ourselves. So what does it look like when you have an established music career, and find the silence of meditation?
BJ Leiderman was asked to demo for a new morning program soon to be launched on NPR. Sitting in a friend's garage, he came up with the melody that Public Radio listeners have been listening to for almost 30 years. Themes for Weekend Edition, Marketplace, Wait, Wait, Don't Tell Me and Car Talk soon followed. New York session trombonist and arranger Jim Pugh arranged many of Leiderman's best-known Public Radio themes. Leiderman moved to New York City in the mid-80's where he built a successful jingle career, winning various awards including the Clio Award. Partnering with Art Director Howard Hoffman, Leiderman worked as Creative Director and Copywriter for clients including Nickelodeon, Tyco Toys and Cartoon Network at Bozell Advertising and Grey Advertising. Leiderman currently lives in Virginia Beach, where he is working on his soon-to-be-released DEBUT album, "Life At The Bottom Of The Dial" and "Morning Edition" – an album of solo piano variations on his Public Radio themes. Catch The BJ Leiderman Public Radio Tour, starting this Fall.
So, sit back, relax, and have a nice Oyama sake.
Podcast: Play in new window | Download
Web Links
Music for This Episode Courtesy of Rodrigo Rodriguez
The music heard in the middle of this podcast is from Rodrigo Rodriguez. You can visit his website to hear more of his music, get the full discography, and view his upcoming tour dates.