Episode 231 :: Jay Roche :: Common Ground Bray, Ireland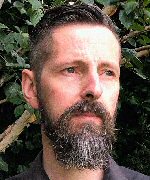 Jay Roche
Jay Roche joins us to speak about Common Ground Bray, a group dedicated to promoting a co-operative and ecological lifestyle in Bray, Ireland.
Hi, everyone. Before we get started with today's episode, I want to remind the listeners that we've started a new podcast which may also interest you. It's called Present Moment: Mindfulness Practice and Science, and appears every other week, alternating with The Secular Buddhist. You'll find many of the same guests you've enjoyed and learned from here, as well as new researchers, teachers, and practitioners. You'll find Present Moment in the Science & Medicine section of iTunes, in Natural Sciences, or just do an iTunes Store search for Mindfulness, and look in the results in the Podcasts section. You can also visit the website, PresentMomentMindfulness.com. Thanks for checking it out, and if you like what you hear, please feel free to share it with others.
Do you ever feel like an outsider, even in your home town? Maybe not so much of an outsider, certainly you're known and liked, but you may have a vision for what a community might be that's a little different. That requires dedication to making that vision come alive, and building community within your community.
Jay Roche works as a visual artist and designer and lives in the small town of Bray on the east coast of Ireland with his wife and four children. He has been meditating for over 20 years and is interested in a secular approach to Buddhist practice. In 2012 along with a number of other people he helped set up Common Ground Bray, a grass roots ethical and cooperative community. He runs a meditation group as part of this project with an aim to fostering mindfulness and to explore new ways of building sangha in the modern world. He publishes a blog The Bray Meditation Space that touches on topics and ideas discussed within that group.
So, sit back, relax, and have a nice Barry's Irish Breakfast tea.
Podcast: Play in new window | Download
Web Links
Music for This Episode Courtesy of Rodrigo Rodriguez
The music heard in the middle of this podcast is from Rodrigo Rodriguez. You can visit his website to hear more of his music, get the full discography, and view his upcoming tour dates.