Episode 239 :: Rick Heller :: Secular Meditation: 32 Practices for Cultivating Inner Peace, Compassion, and Joy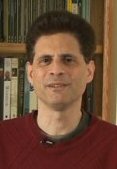 Rick Heller
Rick Heller returns to tell us about Secular Meditation: 32 Practices for Cultivating Inner Peace, Compassion, and Joy — A Guide from the Humanist Community at Harvard.
Hi, everyone. Before we get started with today's episode, I want to remind the listeners that we've started a new podcast which may also interest you. It's called Present Moment: Mindfulness Practice and Science, and appears every other week, alternating with The Secular Buddhist. You'll find many of the same guests you've enjoyed and learned from here, as well as new researchers, teachers, and practitioners. You'll find Present Moment in the Science & Medicine section of iTunes, in Natural Sciences, or just do an iTunes Store search for Mindfulness, and look in the results in the Podcasts section. You can also visit the website, PresentMomentMindfulness.com. Thanks for checking it out, and if you like what you hear, please feel free to share it with others.
Secular Buddhism is a concept which has, as a natural outgrowth, secular meditation. Still with more than a passing relationship to its Buddhist background, secular meditation nonetheless is finding appeal with a wide audience of Secular Humanists, atheists, skeptics and scoundrels like us.
Rick Heller is the editor of the online magazine, The New Humanism, a publication of the Humanist Chaplaincy at Harvard University. He is also a facilitator of the Humanist Mindfulness Group in Cambridge, Massachusetts. He has guided mindfulness and loving-kindness meditations at Occupy Boston. He is the creator of Seeing the Roses, which offers free videos on mindfulness and shows how mindfulness can be an antidote to the excess consumerism that drives climate change. Rick's writing has appeared in The Humanist, Tikkun, Free Inquiry, UUWorld, and Buddhadharma magazines, and in the Boston Globe and Lowell Sun. His short stories have appeared in Fantasy & Science Fiction magazine. Rick holds a Master in Public Policy degree from Harvard's Kennedy School, a Master of Science degree in journalism from Boston University, and a Bachelor of Science in Electrical Engineering degree from MIT.
So, sit back, relax, and have a nice Boston Tea Party Light.
Podcast: Play in new window | Download
Books
Web Links
Music for This Episode Courtesy of Rodrigo Rodriguez
The music heard in the middle of this podcast is from Rodrigo Rodriguez. You can visit his website to hear more of his music, get the full discography, and view his upcoming tour dates.