Episode 25 :: Edith Haenel :: Phenomenology in Social Work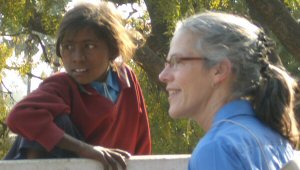 Edith Haenel speaks with us about the Upper Midwest Summer Institute of Buddhist Studies, and bringing her practice to others in her role as a social worker.
Okay, show of hands — how many of us have ever said something like, "I'm so mad right now!" The fact is, most of us were probably raised with the idea that there is a Me who Is Angry. And that at least double misperception makes it that much harder to escape from the suffering inherent in the habit of exercising ill-will.
How amazing it is to have a simple realization that this process we think of as our Self is just that, a process! From that, one more easily accesses the fact that our emotional states are really mind states, interacting with the physical responses of our bodies to whatever is happening, or that we're recreating, at that moment. We're no longer swept into that maelstrom of passion without our consent, and we have the space to decide how that conventional Us will interact with that ultimate arising and falling of continued process.
Some of our fellow practitioners have taken this to their work, as they help others who struggle against that tidal wave of feeling. Sometimes, the simple act of asking someone to tell us what's happening in their body at those times, can open a door to seeing a happier way of living their life.
Edith M. Haenel, MS, LICSW is clinical social worker in private practice in Albert Lea MN. She is also a Certified Nurtured Heart Approach Trainer and a Level III Qigong Healer. Edith received her BA from Southern Methodist University and her Masters Degree from Iowa State University.
Edith has meditated since 1995 and has studied at the Barre Center for Budhhist Studies since 1997. Edith is on the planning team of the Upper Midwest Summer Institute of Buddhist Studies which offers teachings by Buddhist scholars every year in Clear Lake, Iowa. She is also working with a team to bring The Alice Project education to this country. The Alice Project is an educational model that organizes education around the principles of Buddhism.
So, sit back, relax, and have a nice Jamba Juice. Not orange. Something with Rasberry.
Podcast: Play in new window | Download
Quotes
"Don't let this experience stay an event. Let it become a process." — Edith Haenel
Books
Web Links
Music for This Episode
Chikuzen Shakuhachi Series
The music heard in the middle of the podcast is from the Chikuzen Shakuhachi Series, Volume 1, courtesy of Tai Hei Shakuhachi. The tracks used in this episode are: