Episode 261 :: Rick Repetti :: Buddhist Perspectives on Free Will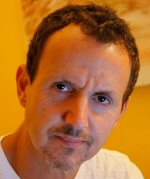 Rick Repetti
Buddhism's love affair with the "self" is quite dynamic. Some schools and Buddhists are adamant about No Self. Others understand that an ideological list of things Self (capital S) is not, doesn't mean there isn't a conventional self (lower case s). And there are implications about that sometimes aversive relationship with the self, like what it means for the question of free will.
Rick Repetti received a PhD at the CUNY Graduate Center in 2005, on the problem of free will. He has taught at Brooklyn College (CUNY), LaGuardia Community College (CUNY), and Vassar College, and is Professor of Philosophy at Kingsborough Community College (CUNY), where he teaches Asian Philosophy, Philosophy of Religion, Ancient Philosophy, and Global Ethics, and leads a weekly meditation group for the college community. He is the author of The Counterfactual Theory of Free Will: A Genuinely Deterministic Form of Soft Determinism and several articles on Buddhism, meditation, and free will; he is a yoga and meditation practitioner since 1973, and instructor in both since 2000.
So, sit back, relax, and have a nice maple nut tea.
Podcast: Play in new window | Download
Books
Web Links
Music for This Episode Courtesy of Rodrigo Rodriguez
The music heard in the middle of this podcast is from Rodrigo Rodriguez. You can visit his website to hear more of his music, get the full discography, and view his upcoming tour dates.