Episode 277 :: Kyira Korrigan :: Working with Hatred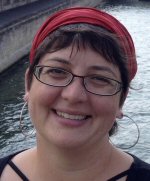 Kyira Korrigan
Kyira Korrigan joins us to speak about working with hatred.
Think back to a time when you were really, really angry. What was that like, how did it feel? Constricted or open, heavy or light, calm and peaceful or agitated and perhaps even violent? And perhaps most important, what were your words and actions like, did they positively move you and those around you forward? My personal edge is the arising of reactive anger. It's quick, it's hurtful for me and my loved ones, and it's the main reason I practice every day. Meditation is not a cure all, but may provide some help to lessen the habit of that reactivity, and shift to response.
Kyira Korrigan is a committed student and teacher of the Buddhadharma. Her focus is on the Pali Suttas, with healthy portions of Freire, hooks, and AK Press mixed in to round out the taste of liberation. She serves as a full-time chaplain in a med/max security men's prison in British Columbia, Canada.
So, sit back, relax, and have a nice Red Rage tea.
Podcast: Play in new window | Download
Music for This Episode Courtesy of Rodrigo Rodriguez
The music heard in the middle of this podcast is from Rodrigo Rodriguez. You can visit his website to hear more of his music, get the full discography, and view his upcoming tour dates.