Episode 282 :: Miles Kessler :: Mindfulness, Aikido, and the Integral Dojo in Tel Aviv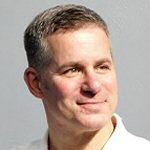 Miles Kessler
Miles Kessler joins us to speak about the intersection of mindfulness and Aikido.
Hi, everyone. I want to thank you for supporting the Secular Buddhist Association with your generous contributions. Because of that dana, we're able to continue offering this podcast, the discussions on our website secularbuddhism.org, and of course our live online Practice Circle. And if you haven't yet, you're welcome to visit the website and show your appreciation, as we appreciate you listening in, and sharing your own voice in this exploration of the dhamma in our lives.
There are principles of mindfulness, however one chooses to define or not try to define that term, which can manifest in a wide variety of human endeavors. Perhaps those most dependent on awareness, intentionality, balance, and the courageous engagement with others coming to us in conflict are good examples. Today's guest explores how that shows up in his own teaching of martial arts.
Miles Kessler is an American teacher of Aikido (6th Dan, Aikikai), meditation, and Integral Practice. He is the founder and director of the Integral Dojo in Tel Aviv, as well as the non-profit organization Aikido Without Borders in Israel/Palestine. For close to 20 years he has been producing Aikido events such as "Aikido Practice & Inquiry", "Integral Aikido Intensives", "The Dead Sea Seminar", "Meditation For Aikidoka", and the "Aikido At The Leading Edge" tele-summit. His mission is to support people who are committed to Aikido, meditation, mindfulness, personal development, embodiment and Integral Practice.
So, sit back, relax, and have a nice Dragon Dharma tea.
Podcast: Play in new window | Download
Web Links
Music for This Episode Courtesy of Rodrigo Rodriguez
The music heard in the middle of this podcast is from Rodrigo Rodriguez. You can visit his website to hear more of his music, get the full discography, and view his upcoming tour dates.